ImaginMe
Developer
Ring Zero Games Ltd.
Game Engine
Unity 2017 & 2018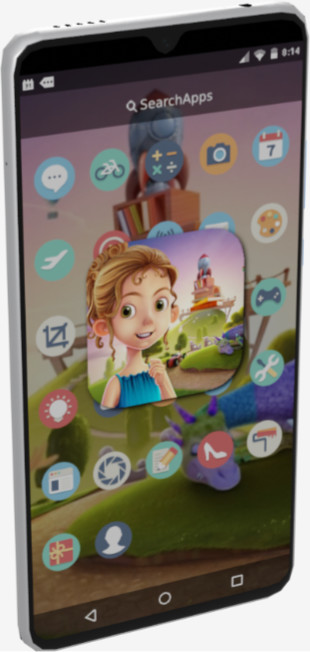 During my time at RingZero, I had a chance to work on a product line, with the same name as its company, called ImaginMe. It is a collection of story and game apps for children. Its heart is its Character Creator app which allows the player to create his/her avatar and then use him/her in all other ImaginMe apps.
Originally, ImaginMe was one single app with the ability to download additional stories and games. The problem with this approach was that the app size increased enormously with each download. Character Creator and one additional story already take up to 1-2GB of storage space. So, to solve this issue, we split Character Creator and other stories into separate apps. Character Creator thus becomes the hub for all other ImaginMe's story and game apps. We developed a Unity plugin to enable the sharing of avatar data between all ImaginMe's apps both on iOS and Android. We also enhanced the characters' facial expressions with blendshapes.
In total we worked on the following apps:
Update the ImaginMe character creator.
We enhanced the existing Little Bean story, which encourages children to believe in themselves to follow their dreams.
Jungle Book was the next app we worked on. Loosely based on the original Jungle Book story, the protagonist is forced to flee his/her home by the evil tiger Shere Khan. The story takes place in a fictional urban setting. Throughout his/her escape, the player encounters different animals and helps them through different obstacles (in the form of minigames). This eventually gains him/her the animals' trust and companionship. By the end of the story, the player confronts Shere Khan and overpowers him with his/her newfound friends. Nevertheless, instead of banishing the tiger, the story ends with the player offering Shere Khan a place to belong.
Beauty and the Beast is ImaginMe's spin on the famous fairytale. If the player avatar is male, then he will assume the role of the Beast. If the avatar is female, then she plays the role of Beauty. The objective of the story is to teach children not to simply judge the book by its cover, and to learn to see behind looks and to stay true to their beliefs.
Lastly, we worked on ImaginMe Dragons - an endless runner game where the player rescues baby dragons and eggs from a giant volcanic eruption.
With the team of reliable members, I believe we managed to produce several wonderful apps, which I truly hope can inspire many children.
Sources:
Thank you ImaginMe for allowing the usage of their images. You can find more information on their official website at https://www.imagin.me/